Transfer from Bologna / Transfer to Bologna / Bologna Taxi / Taxi Bologna
In Bologna it is situated the oldest functioning university in Europe, covered arched galleries, the fifth largest temple of the planet. In one of the local churches there is an organ, on which Mozart himself played, even an icon, painted by the hand of the Apostle Luke, is kept there.

This page provides rates for transfers from / to Bologna
Rates for transfers to any direction via:
– or fill out our request form online:
We provide professional Guides, interesting excursions around Bologna, trips to the Ferrari and Lamborghini museums! Our drivers speak English and Italian!
MAIN DIRECTIONS / ONE WAY
Bologna Rates
*THE RATES ARE SPECIFIED IN (€) EURO
Business class
Mercedes class E 213
Mercedes class S long W222
Mercedes Vito
Mercedes class V
Bologna – Bologna Airport
40
50
100
50
65
Bologna – Verona
240
260
350
260
290
Bologna – Florence
180
200
380
210
230
Bologna – Rimini
190
210
390
230
250
Bologna – Museum Ferrari
90
110
170
100
140
RATES TO OTHER DIRECTIONS ON REQUEST
MAIN DIRECTIONS / ONE WAY
Bologna Rates
*THE RATES ARE SPECIFIED IN (€) EURO
Mercedes Sprinter
Mercedes Sprinter VIP
Mercedes Sprinter 16 pax
Mercedes Sprinter 19-22 pax
Bus for 22 persons and more
8 16
8 20
16 16
22 22
22 22
Bologna – Bologna Airport
100
Request
290
320
Request
Bologna – Verona
300
Request
490
550
Request
Bologna – Florence
270
Request
Request
Request
Request
Bologna – Rimini
280
Request
460
500
Request
Bologna – Museum Ferrari
170
Request
300
350
Request
RATES TO OTHER DIRECTIONS ON REQUEST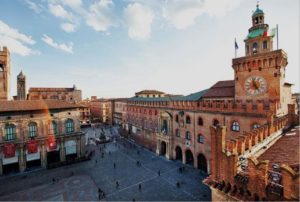 BOLOGNA TRANSFER / BOLOGNA TAXI
Bologna, the capital of the Emilia-Romagna region is located on the Padan Plain, at the foot of the northern Apennine mountains, near the Adriatic coast (Rimini, Ancona). It is historically considered the largest metropolis in Europe. Since 2000, it has the title of European cultural capital, and in 2006 it entered the honorary list of UNESCO. This city combines harmoniously tradition and modernity, it attracts tourists and travelers who want to see architecture and historical artifacts, and at the same time those who want to participate in interesting public events. The Italians, as a people with a sense of humor, described Bologna with just three words: La Dotta, La Rossa, La Grassa (Erudite, Red, Fat): "Red" – due to the abundance of red roofs in the Tuscan style and brick buildings; Erudite – as it was and remains the largest student city in Italy Fat; – due to the delicacies for which the city is famous: Parma ham, Parmesan cheese, an abundance of pasta, mortadella sausage and others. From Bologna, you can easily reach the main cities of Italy – Rome, Florence, Milan, Venice, as well as the popular summer resort of Rimini. Many tourists save well on air tickets and buy them exactly to Bologna, and then continue on their way using the transfer service from Bologna. Trust italtransfer and your trip will be full of pleasant memories. In order to book a transfer to Bologna, just leave a request directly on our website in the section Make a request or via Viber, Whatsapp or Telegram, providing the drop-off/pick-up location, date and time of transfer service, a suitable car and the number of passengers. Request Handling process will take the shortest possible time (on average, our operators handle requests within half an hour). If you value comfort and your time, and want your vacation to begin immediately upon arrival in Italy, then feel free to book a transfer to Bologna on our website www.taxiitalybusiness.com. Rates for transfer services to Bologna are worked out immediately and remain unchanged during the whole trip. Our fleet includes the latest business and executive class of Mercedes-Benz models. Moreover, we provide a group transfer to Bologna in comfortable minivans and minibuses. If necessary, we provide professional guides for excursions. By the way, Bologna is one of the main transport hubs of the country, where the main Italian highways connect north and south. Thus, getting to Rome, Milan, Venice and Verona is not difficult. There is an airport, railway station and bus station inside the city.
Contact us for more information!
Contacts in Italy: +39 329 447 9635 (for English speakers)
Contacts in Italy: +39 393 585 5858 ; Whatsapp ; Telegram ; Viber
Email: info@taxiitalybusiness.com
Transfer from Bologna / Transfer to Bologna / Bologna Taxi / Taxi Bologna